Meet the Boshnacks
Rabbi Reuven Boshnack attended Yeshiva University, where he obtained his BS in Psychology, two Master's degrees—one in education, the other in Mental Health—and semicha.
Before working for OU-JLIC, Rabbi Boshnack served as a successful Rabbi and educator in  Boca Raton, Florida. Along with his larger love for Chassidic writings, he has written and published a translation of the Sfas Emes on the parsha.
Known for his smiling disposition and sense of humor, Rabbi Boshanck energizes the halls of Hillel and the campus at large. When not giving shiurim, learning one-on-one with students, writing books, leading trips, or wandering around campus, he can be found playing with his children Levi, Gitty, Shimmy, and Chumie

.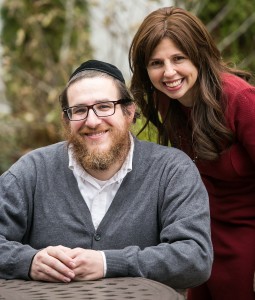 Shira Boshnack is an educator par excellence, having graduated from Stern College for Women and Nova Southeastern University where she obtained her BA in Psychology and Masters in Education, respectively.
A creative programmer and an energetic implementer, Shira enjoys teaching, cooking, and hosting upwards of seventy students in their apartment. Shira, is a Shadchan for YU connects, advocating for her students, and creating events that students can meet their Bashert in a comfortable environment. She is also a veteran Kallah teacher, educating her students for their next stage in life, with sensitivity and soul.
Rabbi Reuven and Shira Boshnack met while they were working for NCSY in Suffolk Country, Long Island. They currently have four children: Levi, Gitty, Shimmy, and Chumie

.
Reuven's sefer can be purchased here.